De-Tangled
This post is an entry to the Dove and Indiblogger 'My beautiful hair story' contest.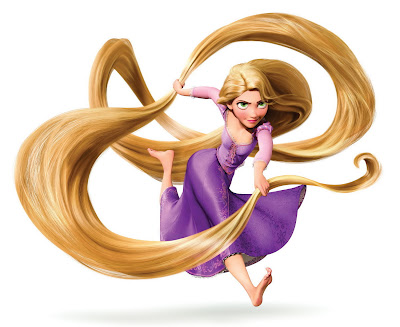 Image Courtesy: Disney's Rapunzel.
'Once upon a time', is how the legend goes,
Why the archaic style, heaven only knows!
Back to the story, as it begins to unfold,
I was a princess, but was never so told.
Locked up in a tower that none could find,
I lived in my own world, oblivious to mankind.
Now my 'mother' who really was a wicked witch,
With a very pointed nose and her love for kitsch…
Visited me in the tower every other day,
Said she worked to keep the trolls at bay.
I never really figured why nor did I honestly care,
But it was an uphill task for my beautiful long hair.
Now would be a good time, perhaps, to let you know,
I had long lustrous tresses with a subtle golden glow.
Well the high rise tower you see, had no way up,
Except when she said 'Throw down your hair, buttercup'.
And thus with years of hair damage and split ends galore,
My gorgeous mane and this tale were turning into an eyesore.
Yet, if it wasn't for that handsome prince that day,
Who whilst hunting for network in the forest, had lost his way.
I'd never have done single-handedly to break those shackles,
As much as it made the poor witch curse, crippled and crackle.
But in the bargain I lost my lingering golden curls,
A prize for freedom dearly paid for by this poor girl.
However the prince promised to make this all better,
He plugged in his laptop and typed in some letters.
Far, far away, Indiblogger was his kingdom he said,
Where I was more than welcome to post a thread.
Talking about my life, my random views and thoughts,
And perhaps any particular hair solution I sought.
Now with just a frizzy mop to cover my petite head,
I wondered if the tower really was a better option instead.
And then he showed me a whole new world of love,
An adorable little birdie that called itself Dove.
She went on to cleanse, moisturize and then repair,
Both my wounded soul and my thinning hair.
Renewed and rejuvenated with the 'real me',
I took the long pending flight of fantasy.
Walt Disney soon bought my story copyrights,
Rapunzel was now an international delight.
I went from rags to riches in just a matter of days,
The perfect crowning glory is now what everyone says.
The IB kingdom then organized a blogger fanfare
Tangles, dandruff, thinning hair and spilt ends,
And that was the end of my hair problems, my dear friend!
Comments
comments
Google+ Comments