Barfi! A Sweet Treat….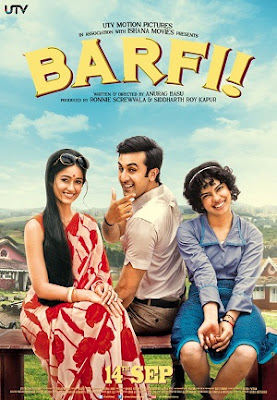 When I first heard the name 'Barfi', I almost concluded the hero would be a 
halwai! 
Fortunately, I was proved wrong. For those of you who don't know yet what I am talking about, please look it up 
here
. And for the record, I quite enjoyed the movie. Why? Because for once I did not have any silicon twins shoved down my face via a raunchy item song. Also, I did not have double meaning dialogues to pick and choose from.  The story took it's time to unfold, but thankfully there was a story. 
Murphy
 was Barfi in the most unique way supported by some very stellar performances. 
Have to make a subtle mention of the opening song which urged people to mute both their phones and their kids. Fabulous!
Some scenes stayed back with me and brought a smile to my face as I wrote this post. In no particular order, the male protagonist showing off his hairy legs, the newspaper ride with the sadhu, the offer letter to the parents and the pass over proposal. Some tugged at the heart too, like Jhilmil laying claim to what she knows as hers. Barfi's disability at a crucial moment in his father's lifetime hits you hard. And when Shruti decodes the pictorial album,  all the missing pieces of the puzzle begin to make sense.
So before I had even seen the movie, it got selected as our official Oscar entry. People instantly found a zillion multiple sources it was copied from and there was widespread brouhaha. Honestly, even for a cut paste job you need talent. And I say this without wanting to sound like a crusader for plagiarism. Those who know me will vouch for that. In a digital age like ours, where information flows freely, copy artists are bound to come up. You can confront them or let them be, really your prerogative. Personally what bothers me more is when the 'copier' does a shoddy job. When you copy a Mona Lisa and render a dimension to her beauty, it really is an ode to the masterpiece (purely my opinion). But give her a moustache and a hood under the garb of creativity; you will have Da Vinci turning in his grave.
Anurag Basu has been saying he was inspired by Chaplin, all along. It is a welcome change than those who promote their DVD scripted film as something new and fresh….duh! As much as Barfi was 'inspired' via multiple origins, there have been far more qualified predecessors, trust me. Here are 5 movies that have either been lifted scene for scene, plot for plot or story for story from the original. I believe they have left a gaping hole in cinematic expression. Somehow, don't remember anybody crying blue murder to this extent……of course FB, Twitter and BBM were not used with a vengeance back then.
1. Ghost  – Pyaar ka Saaya
Ghost was a movie that my bestie and I loved to bits. That pottery scene remains one of the most sensuously captured visuals. 'Ditto' is what I got engraved on my wedding ring.  'Sam' is what my friend named her first born. Patrick, Demi and Whoopi were a lethal combination. Whoopi won an Oscar for her performance amongst other awards. Our very own Mahesh Bhatt jumped in to challenge this brilliant rendition. What we got was a shoddy script backed by Rahul Roy, Sheeba and Amrita Singh? FacePalm!
2.  Dirty Dancing – Holiday
When Patrick Swayze moved, every ounce in my soul wanted to dance to 'the time of mylife'. My 'hungry eyes' wandered….sigh! And then Pooja Bhatt goes and finds Dino Morea (@##@#@#@#) to fill in his dancing shoes, like really? Onjolee Nairhad good postures and moves. That's it, don't look for anything else.  It was disaster with an H!
3.  Love Story – Khwaish
Where do I begin? Here we have Erich Segal's famed love story debut with 17 kisses for the sex starved Indian audience. And a heroine who looks like a cross between a mule and a camel is unleashed upon us. I rest my case.
4. Unfaithful– Murder
Richard Gere, Diane Lane and Olivier Martinez scorched up the screens with their interwoven lives. The story of an adulterous wife is not an easy one to tell. Well, Mahesh Bhatt to the rescue again with wooden performances from the lead actors. Birth of the serial kisser…………kill me already! Oh yes, it was apparently a Box Office wonder and is now a brand. What?
5. Sleeping with the enemy – Yaarana
When I saw this movie, I almost ruled out marriage for a very long time. Yes, Julia Roberts in one of her best performances managed to creep me out. Back home, a rotund Madhuri Dixit, a rounder Rishi Kapoor and a way past expiry date RajBabbar made for a sorry threesome. AgniSakshi, another rip off was far better in terms of performance I'd say.
Is this a promotional activity for Barfi? Nah! Just that this is not the first time 'inspiration' has sprouted some gems. Some merely glitter under the spotlight; others sparkle with the radiance of the sun.  Is this movie qualified for the Oscars? Well, was Jeansqualified to go as the official entry just because a certain Miss World was in it? Some questions don't have the right answers. In case of Barfi we will have to wait and watch. Maybe it will, maybe it won't. But an Oscar won't take away from it. And if it does bring back the statuette home, these inspirations won't matter.
Psssst, remember the scene where Shruti is walking with a friend? The lady next to me remarked, "That is Natasha Kapoor from Bade Acche Lagte hain. Did you watch yesterday's episode? It was quite gripping."
Comments
comments
Google+ Comments