Starting Something New!
A one stop shop for all top fashion labels, at SS you are always spoiled for choices. However, I can swear by their in-house label, Haute Curry. It is chic yet kitsch, blingy yet trendy, all in all, a very vibrant brand. So I decided to take a sneak peak at the season's flair. Fortunately, when you have a lil' missy at home, shopping can never really be a solitary affair.  So read about how I came home with a fashion lesson well learnt, one hot December afternoon……………….
The moment we strolled in, we walked to the Ethnic section. Nothing lifts the spirits more than fabric in radiant colours. The princess was quick to make a choice.
She continued undeterred and was on the lookout to accessorize her ensemble. She chose beaded golden slip-ons to match the embroidery on the kurta and a chunky golden neck piece to complete the look.
She finally picked a crystal hairband for the simplistic touch and was almost done, when she remembered the bangles. They however were a tad bit over sized, so we dropped them.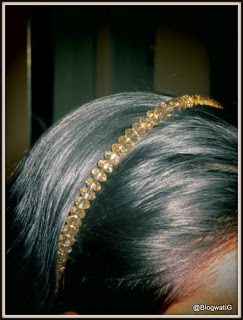 Comments
comments
Google+ Comments