T treasures TIARA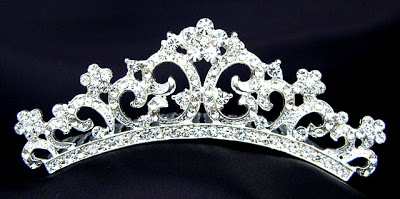 Google Image
A tiara is the prefect accessory to an evening gown. It adds the sparkle to the demeanor of a princess. It is the crowing glory of a queen. A prefect tiara is a culmination of exquisite craftsmanship and flawless diamonds. And how true is that! Our Tiara has our excellent genes and my husband and I met in the diamond industry. Tiara is the name of our princess….
We decided on the name whilst we were dating, blissfully unaware if we'd land up together. And even if we did, would the heavens be kind enough to bless us with a little girl of our own. Little did we know that we were destined for VIP treatment. This special package that was delivered to us around Easter week, eleven years ago, had all 'recipes for happiness' bundled inside. Since then, we have been on a roller coaster ride and the tickles and giggles have not stopped.
The years have flown but not without adding tonnes of happy memories to our kitty. A singular blog post dedicated to her would seem so little, when I can write a series of bestsellers. However, in this one I will introduce you to Tiaraisms. A term I use for all the smart one liners or two, the not-so-little-anymore missy comes up with. Each one, an FB status at a varied point in time served with a straight punch in the face. She has her mother's wit, alright.
Yesterday at a Sangeet ceremony Tiara asked me why the girl's mum was crying. So I said because soon she would be going away. To this she questioned, "Why does the girl always have to go to the boy's house? I'll tell the boy to come live in mine" And when I said "what if the boy does not come to live with us?" She thought for a second and then replied, " Well then you come and live with me, simple.
Tiara : I will not get married till I am 29
Hubby: If you wait till 29 I won't let you get married.
Tiara : Ok then we can be a 'duplicate christian family' where the boy can come and stay with us in my house!
Don't ask me what she meant by duplicate, I'm still delirious by the look on hubby's face. Sigh.. it's a wonderful world & now I get it why it's so funny when someone else is at the receiving end 😀

Yesterday caught a glimpse of 'Big Boss' ( Big Brother for the Non Bollywood community) and was getting tickled about the 'warring situations' when Tiara walks in and says, 'Mum, you ought to go in there……those people need some discipline'…..Atta girl!!!! ( Thank god she said discipline…..and not competition :P)

Me : You know I'm gonna hug you even when you are 50 years old….so deal with it!
Tiara : When I'm 50, you'll be dead…..coz when Jesus Calls, you gotta go! 
Me : (FLABBERGASTED!!!!)
Tiara : But why do people die?
Me : Well, Jesus wants company in heaven too…….
Tiara : You going to heaven????????? 
Tiara : Mom, we should watch only 3D movies …..I don't like 4D movies!!!!
Me : Why so?
Tiara: BECAUSE…………..when they fart in a 4D movie you will get the smell and not just hear the sound!!!!!
Set up voice chat for Tiara yesterday with her cousin and as I look in pride and wonder at my baby, she whispers ' Mom can I have some privacy????'
We were watching Jodha Akbar, a period film on TV. A scene where the king is sitting on his throne with an audience. Two men are fanning him. Tiara goes, "He is a king right? He can't buy fans for himself?" Amused, I told her during that era there were no fans. She looks at me incredulously and says, "Yeah mom, but they did have fans when they were shooting this movie!"

And just before we took off for our annual holiday this year, the cab did not come to pick us up in time. We had to hail two autos to get to the airport. I was fuming at their inefficiency whilst en route to the airport. Tiara points to another cab from the same company and says "Anger Management" and then smirks. Apparently Charlie Sheen's new TV series was advertised on the  rear of the cab. Yes, she is a very smart girl. 
Comments
comments
Google+ Comments