HP = Happy Printing!
This post won an HP Deskjet 5525 E All in one printer at the Blogadda HP 'Let's meet' contest.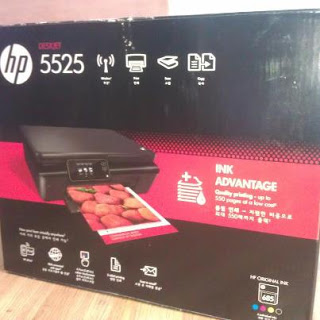 Throw in a frequented eatery, add in a bunch of enthusiastic bloggers and top it with a global brand………….. voila, you have the recipe for
'FANTABULOUS'
.  
BlogAdda's
HP meet was all this and more! Yes, I can say this for effect, but there is something about a close knit gathering. You speak, share, laugh, nod in agreement and instinctively applaud. Every face is someone you can talk to, while a couple of names ring a bell when introduced.
HP = Happiness Personified
As my friends and I walked into At Fat Cat, (a place we'd just visited the previous weekend), we were looking for a face. This girl was someone we'd been chatting with online practically every day. We knew the name and what she looked like; we just had to meet the conventional way. Many warm hugs and polite hellos later, we were all set to be wired in.
HP = Haute Personality
An informal introduction with any 'one facet of HP printers' was quite howlarious. While some came up with whacky one liners, others had an ode written in less than 5. After all, the pen was mightier than the sword for this bunch. Sagarika from BlogAdda, led the meet into discussions about how printers were really an innate part of our lives. I was nodding in agreement, for my HP PSC 1410 All-in-one printer has been quite an extension of my life since 2006. It was my first printer and is still going strong with all the prints, scans and copies I put it through. And mind you, never serviced it even once, but no complaints till date.
HP = Helpful Partner
Next, three questions were asked and Twitter was on fire. Everyone was trying to sync their experiences with the endless possibilities of a low cost printer. Mr. Diptesh Ghosh, National Product/ Channel Head- HP then took over. He went into the intricacies of why a home printer was more economical than printing at DTP centres. And believe it or not, less than 0.75 to 0.90 paise a page!  He also added that original HP cartridges would give you around 500 pages per run. And yes I can vouch for this, for every printing that I have done, be it school assignments or personalized cards, scrap books or essays, my cost has always been minimal.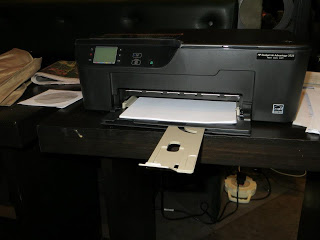 The Star of the Show HP 5525 Deskjet, E-All in One
Talking  about the HP 5525 Deskjet E-All in One, he went on to add how technologically it simplified life.  For mothers who are always bogged down with constant school projects and charts, this seemed like a magic wand. Not only could I save and print directly via a memory card,  it also enabled scanning and uploading photos to mail without  a PC! So the E stands for Easy, Economical and Efficient, I guess. HP surely lives up to INVENTING and REINVENTING to better their best.
HP = Happy People
It was then time to dethrone your opponents with a game of Jenga. The atmosphere was electric as the 'oohs and ahs' resonated with every wooden piece removed. Delicious platters were then brought out, courtesy At Fat Cat and they were followed by the HP goody bags. Winners of various segments were announced amidst fanfare and camera clicks. An HP Printer made it's way to one fabulous tweet. I took home a gift for being dressed in the brand colours to the tee, yeah me!  Casual interactions threw light on a must read book, blog ethics, simple writing skills and what being a blogger truly means. Time then for cake cutting, group snaps and goodbyes……all in all, my first BlogAdda meet was memorable for so many reasons and more.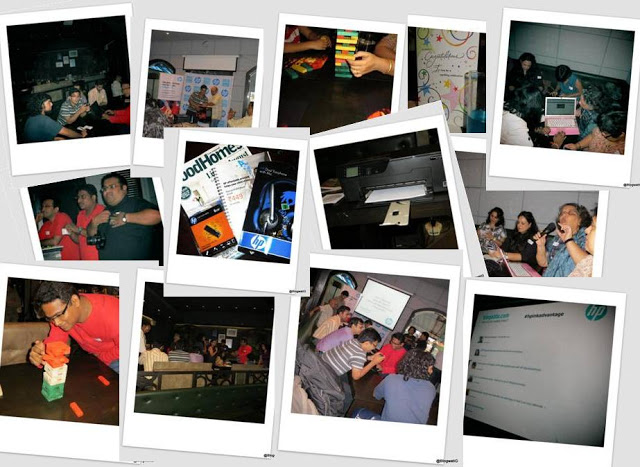 My HP INK ADVANTAGE
I have realized how important it is to use original cartridges. I used refilled ones twice and the quality was atrocious. Since then, I have gone back to HP. It is pretty much like buying a book from the street vendors, it might look the same but the 'print' is very different. Pun intended.
Also for maximum benefit from your print cartridges, use the settings advantageously. If you are using for regular reading and/or filing, draft mode works just fine. For pictures, 'normal' is good or 'best' if you want photographic quality. I must also add that the quality of the paper used (regular, photo, inkjet, glossy, premium) and the GSM (paper density) also affects the print output. I have printed elaborate invitations, song books and  pictures, all to the required effect.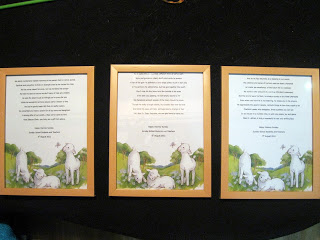 Frames made for personalized poems on regular print outs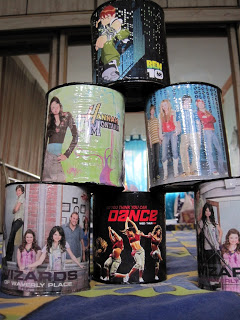 Birthday Takeway Decoupage Tins made with simple printouts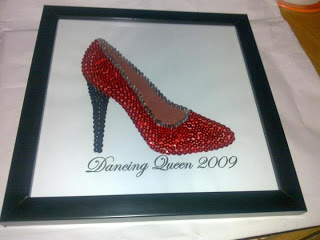 A Framed Dancing Trophy enhanced with sequins, so much more classier.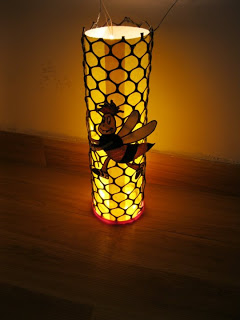 This lamp won the first prize in a 'Mother & Child' competition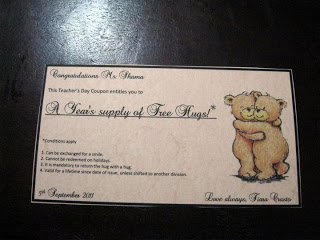 Teacher's Day, we don't buy cards…..we make them.
HP = Helping the Planet
I had carried used cartridges in my bag but forgot to talk about my concern for recycling them. Yes, HP does have a drop off centre at Goregaon in Mumbai, but then again, logistically for one or two cartridges that is not possible. I suggest, if the brand could perhaps come up with a system for recycling, zone/area/store wise. If every cartridge deposited earns the consumer a discount on a new product and the retailer some brownie points, we can contribute to a greener environment.  I don't know how feasible this might be pan India, but it is an area that can be surely looked into.
HP = Happy Printing
Coming away, the meet made me realize the importance of the 'here and now'. No matter how wired we are, nothing warms the heart as much as a lively bunch that connects. No matter how expensive a gift we purchase, it stands in no comparison to a handmade present. No matter how different we might be, we all want to make a difference somewhere. And no matter how old we are, free goodies still make us very, very happy. So here's raising a toast to BlogAdda and HP for a Saturday afternoon that we will reminisce for years to come. Happy Printing People!

Comments
comments
Google+ Comments