My Daddy strongest………..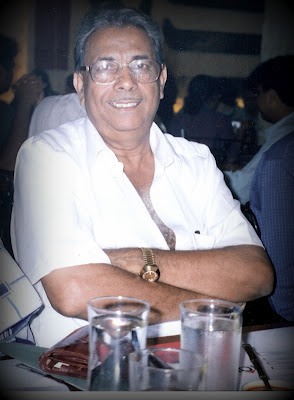 Today is my dad's 72nd birthday and I don't really have a gift in place. What do I give him? He already has all that he needs. So I picked a bouquet to bring in the happy occasion. Most girls idolize their dads, I was no different. I tried to be like him, but really could not match up! The amazing things he taught me in his lifetime were never via a serious talk or by reprimanding. They were by his real life stories, some great anecdotes or simple questions that made me think up of solutions. Yes, there were times when he did lose his temper, but that was once in a blue moon, literally!
I remember when I was all of 9 years; I wanted a scooter (the poorer cousin of the scooty these days). Back then it was a luxury and Dad could not afford it, but he did not refuse, he simply said, "Beta tu scooter lekar kya karegi, thodi badi ho ja, cycle le doonga." (Sugar, what do you need a scooter for, will buy you a cycle once you are a bit older). It seemed like a great proposition, the scooter was forgotten as I began weaving dreams of proudly riding my new bicycle. When I was old enough to own the bike, my dad said further, "Cycle toh main le doon, par soch raha tha ki jab tu college jayegi toh Luna hi le deta hoon." (I can buy you the cycle, but was thinking of picking a moped once you head for college) I jumped at the offer, a luna moped was the 'in thing' back then and so I happily traded the bike for it. Of course time and tide wait for no man and I was at the threshold of owning the luna when dad said again, "Luna chhodh, maruti car hi le doonga tujhe, tu driving seekhle."(Forget the luna, learn driving and I will buy you a Maruti car) By then I figured it would be better to commute by public transport and said, "Dada aap ab car toh rehne do, plane hi le lenge." To which he haughtily replied, "Umeed par duniya kayam hai" (The world survives on hope). That my sense of humour has been inherited from a reliable source is pretty evident.
Growing up he was my confidante. He'd be the one I'd talk to about anything and everything. When asked if he did not have a son, he'd point to me and say "Yeh hai na, 100 ladkon par bhari pad jayegi".(This one can compete with 100 boys). The glint of pride in his eyes was unmistakable. My sister and I had the best man in the whole world to call our father.
If there was anything that dad loved more than us, it was his car. He'd wash and clean his beauty till she was shinning like new. Unlike most of us, he learnt his driving by following a BEST bus. Well the story is such. He had to deliver some prints from Famous studios, so he took the car. Being his first time, he moved at a slow pace and tailed a BEST bus. He'd stop wherever the bus stopped. Slowly and steadily he reached his destination, safe and sound. And yes he drove like a BEST driver all his life. Never noticed speed breakers, loved the horn and had something against signals.
For a not so great driver, he had amazing clarity of thought. I had kept memories of a relationship I once had, safely tucked in one corner of my cupboard. Dad came across them. In his infinite wisdom he said, "Jo rishta raha hi nahin, uske astiyon ke boj tale kyun dabna?" (Why carry the ashes of a dead relationship?). That evening I burned all the memoirs I had saved for years. And just like that I had my moment of closure.
By nature I am quite headstrong unlike him. He had all the patience in the world. I'd get worked up when things would not go my way. I'd get into nasty arguments but he on the other hand could make people dance to his tunes with a smile.  He'd always tell me "Joota hamesha gift wrap karke marna chahiye, saamne wale ko accha lagta hai"(Always gift wrap a shoe when you intend throwing it at someone, it works like a feel good factor). My crown of the Queen of Sarcasm was a well earned one in the years to come.
In spite of being in the film industry for 45 years, he was a teetotaler. Whenever he was asked to have a drink, he'd laugh and reply "Jiss gali jaana nahin wahan diye kyun jalaoon?" (Why would I light up a path I don't intend travelling?) Needless to say, I take pride in being a teetotaler myself.
Dad always knew his way around. He believed in God irrespective of which community they belonged to. He loved good food and great music. The life of the party, he was a fab dancer. He loved white and could make the most amazing 'maa ki dal'. He also was a simple family man and loved receiving gifts on his birthday. And so as I reached home, I pulled the bunch of flowers and gently placed them near his photograph. A lone tear somehow managed to escape from the indomitable emotional fortress I had built. Because today also happens to be his 6th death anniversary……
Comments
comments
Google+ Comments