The Metrosexual Mom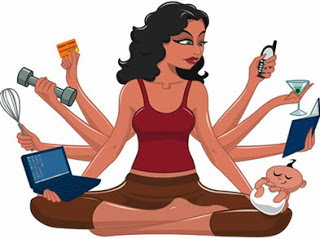 Image Courtesy : http://www.meetup.com/mommynetwork/about/
India was shining, Mumbai was the epicenter. The new millennium had ushered in a genetically advanced generation. One of the adept species was the Metro sexual Mom. Gone were the days of being called a 'simple housewife', she now settled for the more demure 'domestic goddess' instead. With her 'ladies (and lads) in waiting, that were paid handsomely to be at the beck and call of their mistress, she rose like a phoenix from the ashes. While they toiled, she sweated it out at the gym, caught up on gossip and monitored the flawless functioning of her immaculate house by the help. The Metrosexual Mom was here to stay.
Shilpa, Karishma and Malaika met on the first day of kindergarten and have been friends since then. Can't say the same about their kids though, who hardly had a choice in the matter. And so it was, the tiny tots went to school and the moms hung around for coffee and conversations in a true chick flick style. Their husbands were introduced at one of the high tea parties and soon Sooraj Barjatya's 'Hum Saath Saath Hain', pretty much became their tagline. Dinners, discotheques, movies and vacations were now a grand affair, until that one fateful day when Shilpa changed the equation forever.
It was her precious angel's birthday and Shilpa went all out to make it a memorable affair for Shanaya, with a 'princess themed party'. A grand hotel venue, mouthwatering buffet, matching décor, and 'phoren' return gifts marked the occasion. Every child came back with a royal hamper that had an Ipod, chocolates and a map to Disneyland as the return gift. She had spent close to 2 lakhs on the celebration, but then again it was all for the benefit of her 5 year old who really just wanted to open her gifts.  Yet, the die had been cast and there was no turning back for the other moms. It could only get bigger and better here on, for Momzilla was now on the loose.
Malaika had a twin celebration coming up, as her boys were turning, you guessed it, five. Not the one to take things lying down, she chose the affable Harry Potter to her rescue. The invites were sent in personalized 'magical' bottles that promised to grant you a special wish at the birthday of Aryan and Ayaan. The birthday venue was transformed to a film set of Hogwarts. Every child was given a cape and magic wand. The sorcerer was none other than Dumbledore who showed the kids how pigeons came out of hats and other such tricks for daily use. The return gift, hold your breath, was your own personal owl that came in a silver cage with a golden key. Malaika had done it like the queen, never mind the cost and a broke husband.
Karishma was unfortunately the last in line to show off her maternal expertise. At her wits end, she had no clue how to top this race, but she knew she must. So Kiara's birthday party was an all expense paid one day trip to La La Land. Pool, games, rain dance, sand and surf and not to miss the charted airplane ride that had the kids and moms asking for more. Karishma knew she had arrived when she saw the incredulous looks across the faces of Malaika and Shilpa. Ha! But the best was yet to come. They should have known they were messing with 'top of the line' goods. Right enough, every child was given an Xbox and the moms, dear Lord, were given a personal blogger. Complete with a degree in English Literature, she would ensure that your life was now a window to the world. Trained to chronicle your lifestyle, she would 'ghost write' a best seller (of course editing the truth and adding the fiction bit) and thus guarantee that you are the next Chetan Bhagat, the best the nation has ever seen.
Needless to say, that it was the last the three ever met, for reasons best known to their husbands' pockets. As for me, Hi, I am BlogwatiG and I'm a blogoholic……………..hark, I hear my mistress call!
Comments
comments
Google+ Comments